Conference Chair: Professor Mike Xie;
Conference Co-chair: Dr Indubhushan Patnaikuni
(both of RMIT University )
Updated Draft Program Now Available: Download here
Accompanying Persons Program : Download here
Who Should Attend?
Structural and Construction Engineers, Architects, Builders and Building Consultants, Construction Industry Persons, Academics, Researchers, Students, Product Manufacturers, Material Suppliers, Project Managers and Contract Administrators, Asset Managers, Government Authorities of Infrastructure Development, and others.
Conference Proceedings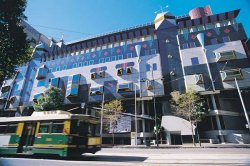 A set of conference proceedings will be published and provided to all registered participants (except for the accompanying persons). Only registered authors will have their papers included in proceedings.
Official Language
The official language of the conference is English.
Past ISEC Conferences
ISEC-01:
"Creation of Systems for Future Technologies"
Honolulu, Hawaii, USA, January 24-27, 2001
ISEC-02:
"System-based Vision for Strategic and Creative Design"
Rome, Italy, September 23-26, 2003
ISEC-03:
"Collaboration and Harmony of Creative Systems"
Shunan, Japan, September 20-23, 2005