Welcome
Dear Visitor: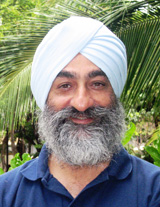 Professor Amarjit Singh
We are happy you are visiting this web page! Welcome! The ISEC series of conferences is now well established as a biennial conference. Our past conferences have been held at excellent locations having excellent amenities. We are particularly pleased with our proceedings, wherein we have produced 1,081 published papers to date over five conferences. In this regard, our organizational mission has been achieved at every conference. Please take a moment to visit our main web page at http://www.isec-society.org/index.htm.

I am sure you will enjoy visiting the beautiful and historic city of Zürich, while attending the ISEC-06 Conference in 2011. There are excellent activities planned for ISEC-06, including exciting post-conference tours. So, we do want you to plan June 2011 around ISEC-06!

If you have questions, please feel free to contact the respective officers and organizers listed under Contacts. We hope to assist you in every way possible to make your attendance at ISEC-6 a pleasurable one, and your experience with ISEC, memorable.

Thanks for visiting us!

Best regards,

Amarjit Singh, PhD, PEng, CEng, PMP, AVS, FIE, FICE, FASCE, FCIOB
President, The ISEC Society
---